| | |
| --- | --- |
| Enter word or sentence in Russian or in English: | |
| | |
Translation:
301 Moved Permanently
---
nginx/1.8.0
| | | |
| --- | --- | --- |
| A necessity for travel. Communication has never been this easy or fun! | The perfect eReading device for business documents, educational texts, and leisure books. | Free speech electronic translator - Translates anything you say. |

ECTACO Partner LUX 4 PRO Multi 14 language Voice Translator and Language Teacher for Russian speakerss
Best for language learning ECTACO Partner LUX 4 PRO, the latest groundbreaking talking dictionary, is the ultimate linguistic tool on the market today! Meet the first-ever Free Speech Translator - ECTACO Partner LUX 4 PRO which has been specifically designed to translate any spoken words and phrases. It features professionally narrated voice output, bi-directional full text translation and a speech recognition based learning system that acts as your personal tutor, making it easier than ever to translate and learn! This multifunctional learning device has everything you need for Language Learning, Language Studies, Entertainment, Internet, Social Networking, News, Foreign Language Communication, Reading and Games.
Special Offer! Buy now the Partner LUX 4 PRO at a special promo price direct from the manufacturer and get the Accessory Pack ($100 value) absolutely FREE!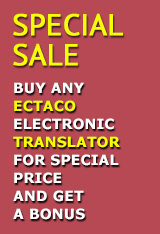 Welcome to our
e-shops: , , , , , and !


English <-> Russian Offline Talking Text Translator!
Translates any text at a touch of a button and speaks the translation out loud! Now available for and



Buy our Russian Dictionaries


Your cost-effective solution for language studies! Contains our latest software releases for major operating systems!



Unique learning tool that acts as your own personal tutor to gradually build up your vocabulary and pronunciation through lessons and quizzes.





Place our Dictionaries and translators on your site